Dinners:     NEW for 2011
Saturdays:  our 50 euro 4-course  gourmet meal
Sundays, Tuesdays and Thursdays
 our 30 euro 3-course "bistrot" meal.
Mondays, Wednesdays and Fridays our new and for everyone who likes some fun, gourmet vegan cooking class with dinner sessions!(95 euros)
As always - all wines and beverages are included in your meal
The Gentle Gourmet has created an original and gregarious way to dine in Paris enjoying exclusively gourmet vegan food with other like-minded visitors. We offer each evening either a fixed 3 or 4-course menu , or a cooking class with meal which includes all beverages for up to 8 guests. Our menus are made from seasonal ingredients, and include contemporary and traditional dishes from around the world. We aim for 100% organic and use either fair trade or local products as much as possible.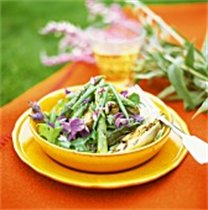 The dinners, open not only to clients of the guest house, but also to all people desiring a gourmet vegan experience in Paris. We can cater to the needs of different special diets such as gluten-free, salt free, nut-free , sugar-free, oil-free and because of our no-dairy vegan diet, lactose-free dieters will be delighted!
Each evening's menu can be seen online 1 month in advance and reservations must be made at the latest 24 hours ahead of the date you have chosen. As we can only accomodate 8 guests per evening, it is best to book and confirm early! The price which includes   all drinks including vegan wines  matched to the dishes served, and non-alcoholic fruit juice cocktails as well as after dinner coffee and tea is 30, 50 or 95 euros including taxes and service. For strict non-drinkers 5 euros (for the bistrot) and 10 euros(for the gourmet) will be taken off the price.
Our dinners are available 7 days a week. Guests arrive for before-dinner drinks and tidbits at 7:30 PM and dinner begins between 7:45 and 8:00 and usually finishes between 10pm and 10:30pm. 
 Typical  gourmet menu for the month of  July, "Le Temps des Cerises - Cherry time!"
* Fava bean paté flavored with fresh lemon and savory on a crisp whole wheat croustade
* Herb-marinated Tofu salad with fresh green asparagus and  scallions
* Potatoes and leeks stacks with roasted carrots, peas and shallots, thyme sauce
* Black cherries in a light five-spice pinot noir sauce with five-spice almond ice cream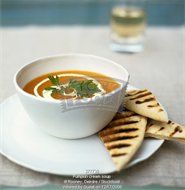 Menu for the month of October "Celebrating Nuts"
* Savory zucchini and pecan madeleines , with miniature cups of 7-onions soup
* Salad of watercress, walnuts, beets, endive, green apple, dried cranberries
* Crushed nut-breaded Seitan filets with a dark walnut sauce with wild mushrooms accompanied by a pumpkin gratin with garlic and Italian parsley
* Poached figs in white wine syrup with vegan hazelnut ice cream acompanied by caramel and hazelnut-thin cookies.
The brunch: every sunday
It's a delicious and fun mix of dishes for all tastes with fresh , seasonal, organic products! The "meals", will begin around 11 am and finish at 13:30 - just in time to visit a museum in the afternoon, and soak up the atmosphere of a Sunday in Paris.
Brunch is 25 euros per person.
Brunch for a wonderful morning in Paris
* French toast with pineapple and pecan with agave syrup
* Porridge with cardamom and amaranth, and a compote of dried plums and pears
* Vegan sweet potato hash with soy sausage
* Muffins (corn, spicy apple, chocolate) and banana breads, whole-grain breads  cereals, vegan croissant
* Fresh fruits and compotes
* Nut Butters - soy, almond, walnut and peanut
*  smoothies and freshly pressed fruit juices
* Spicy Vegan Hot Chocolate , coffee and teas
Picnic take out lunches  15 euros
includes either a gourmet vegan sandwich or an assortment of vegetable/grains/tofu salads and spreads with organic whole-grain breads, a home-made fruit compote, soy yogurt or pudding, bottled water or juice and some extra things to munch on (nuts and dried fruits, olives etc).
La Table d'hôtes:
Le Gentle Gourmet a créé une façon originale et conviviale de dîner à Paris fait à partir d'aliments vegan en compagnie d'autres personnes partageant les memes goûts et convictions. Nous offrons chaque soir un menu unique à prix fixe avec amuse-bouches, entrée, plat principal et dessert accompagnée de vins et autres boissons pour 8 invités au maximum. Nos menus suivent les saisons avec des plats traditionnels et contemporains du monde entier. Nous visons le 100% bio en utilisent de préférence des produits locaux ou du commerce équitable.
Les dîners sont ouverts à tous, clients du b&b et autres visiteurs, souhaitant une experience culinaire gastronomique vegan à Paris. Nous pouvons adapter les menus pour les besoins spécifiques de nos clients (sans sel, gluten, noix etc) et bien évidemment les personnes intolérantes au lactose seront ravies de manger des bons plats sans produits laitiers!
Les menus sont consultables un mois à l'avance et les réservations doivent être faites au moins 24 heures en avance.
Parce que nous ne pouvons accueillir que 8 personnes par dîner chaque soir il est conseillé de réserver aussitôt que possible. Le prix fixe du dîner est de 30 euros pour le diner bistrot et de 50 euros pour le diner gourmet  et incluent les trois/quatre plats, les boissons et café /thé, la tva, le service et un livret contenant les recettes des plats servis.
Les dîners sont servis chaque jour de la semaine. Les invités peuvent arriver à partir de 19h30 pour l'apéritif et le repas commence entre 19h45 et 20h et se terminent entre 22h et 22h30.
Menu pour le mois de Septembre "Le Temps des Cerises"
* Purée de fèves aromatisée au citron frais sur une croustade de blé entier avec de la sarriette
* Salade de tofu mariné et asperges fraîches et ciboules
* Galettes de pommes de terre et de poireaux superposés avec carottes rôties, petits pois et oignons, sauce au thym
* Cerises noires au sirop au pinot noir et de poivre cinq avec une crème glacée aux amandes et infusée aux cinq poivres
Menu pour le mois d'Octobre "Celebrating Nuts"
* Madeleines salées aux courgettes et au noix de pécan, avec une soupe aux sept oignons
* Salade de cresson, de noix, de betteraves, d'endives, de pomme verte, de canneberges séchées
* Filets de seitan panés aux noix concassées avec sa sauce de champignons sauvages, gratin de la citrouille, d''ail et persil italien
* Figues pochées au vin blanc avec une glace aux noisettes accompagnées de tuiles au caramel et aux noisettes.
Les brunch:
Le brunch du dimanche - un délicieux plaisir avec un mélange de plats pour tous les goûts avec des produits frais! Les « repas» commencent à 11 heures et finissent à 13h30 - juste à temps pour visiter un musée par la suite, et vous imprégner de l'atmosphère détendue d'un dimanche à Paris.
Le brunch est de 25 euros par personne.
Brunch pour un merveilleux matin parisien
* Pain perdu à l'ananas et aux noix de pécan avec un sirop d'agave
* Porridge à la cardamome et à l'amaranth et une compote de prunes séchées et à la poire
* Saucisse de soja brouillée avec des rosties de patates douces
* Pain de maïs et muffins au chocolat et à la banane, avec différents pains aux céréales
* Fruits frais et compotes
* Beurre végétal de soja, d'amande, de noix et d'arachide
* Huit smoothies et les jus de fruits fraîchement pressés
* Chocolat chaud épicé au lait de riz, d'amande ou de soja, cafés, et thés